Our shower head can increase water pressure by up to 200%. This is due to the Turbo Technology we have in our shower head! But don't worry we fitted a pressure regulator so you can choose how you want your water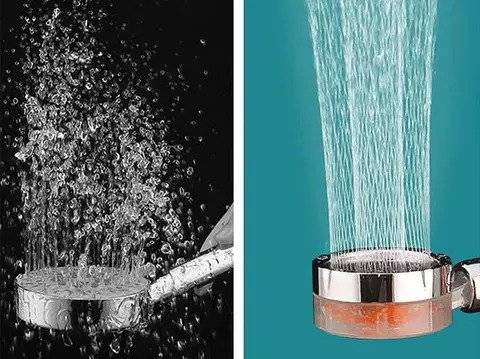 Saves money
The Turbo Shower Head uses micro nozzle technology, meaning the outlet holes are smaller than the average shower head, therefore it can save up to 30% of water. Meaning a lower water bill!
Spa at home
The shower head dispenses water in the form of a net that gently touches your body while showering. Relaxes the muscles, promotes blood circulation, and improves the appearance of the skin.
Clean filtered water
Unfiltered water leads to dry scalp, can alter your hair color, leads to acne and dryness of the skin. The Turbo Shower Head comes equipped with a PP cotton filtering mechanism, to remove impurities and damaging minerals from the water.
Works in your shower
We designed it to fit universally on all hoses, making install and usage stress-free. So turn the tap on and get ready to indulge in a heavenly shower that will leave you feeling relaxed and rejuvenated like never before.
WHAT'S IN THE BOX